The 2024 Cadillac XT4: Revamped, Refreshed, and Reinvigorated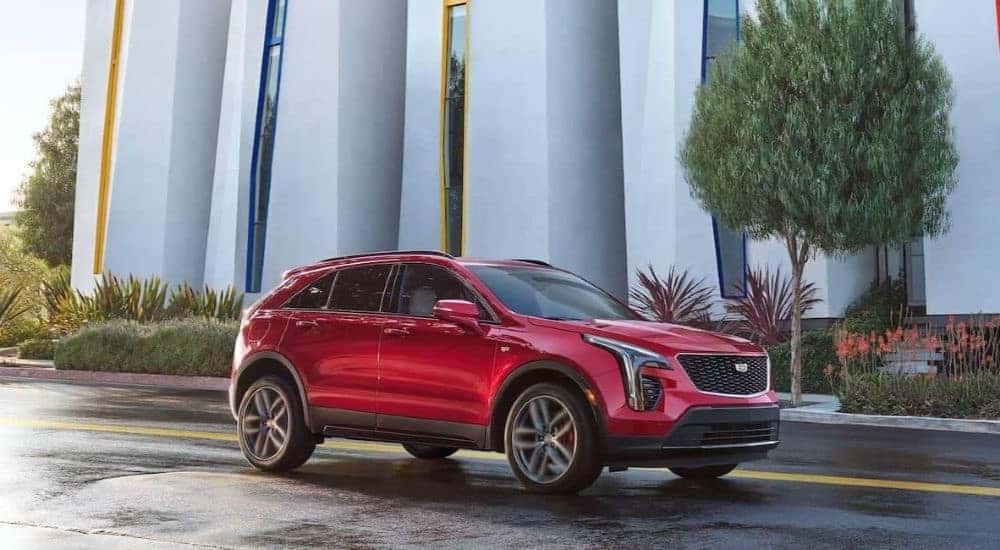 You've made up your mind, and you've decided that you want a compact SUV. Not only is a compact SUV an easy transition from the sedan that you're used to, but it's also more accommodating and more capable, yet it's not too big that you'll have a tough time parking it. Compact SUVs are perfect for many drivers, which is why you see so many of them on the road; however, because of this level of popularity, finding the ideal model in a sea of options can be challenging.
Fortunately, Cadillac has the answer to your driving woes, the compact XT4, and if you're searching for the right Cadillac dealer serving Bismarck, Ryan Cadillac Minot is it. When it comes to this stylish SUV, you'll certainly be captivated by its good looks and lasting impression, and the 2024 XT4 is more exciting than ever, with a slew of updates to make your drive more captivating than you ever envisioned.
Elevated Exterior Details
You'll notice some major changes to the 2024 XT4 from the moment you take your first glimpse of it. From the front, a revitalized fascia greets you, setting the tone of your ride, while new front grille finishes complete the look of its compelling stare. Dazzling LED lighting from front to back provides the level of luxury you're searching for in your compact travel companion, while sculpted body work and chiseled features add an air of athleticism and boldness to this elegant and refined traveler. Enhanced styling from the back helps the XT4 make a lasting impression, while new alloy wheel designs help you create the vehicle you're looking for to inspire your ride in new ways.
New modern paint colors join its lineup to add a contemporary flair to this everyday driver, while its re-envisioned fenders and hood elevate the XT4's status to top-level excellence. The XT4 now looks more like its larger siblings, the electric Lyriq and XT6, allowing it to come into its own and experience the glow-up it deserves during its six years on the market. Grown-up and ready to thrill you, the small-size XT4 is anything but an ordinary compact SUV. From the moment you first glance at this brilliantly designed traveler, you'll be awe-struck by its sheer beauty, no matter which angle you happen to be admiring.
Intriguing Interior Details
Like its exterior, the cabin experience inside of both new and used Cadillac XT4s is elegant and comfortable, acting as an oasis for you and your passengers as you journey to your next destination, wherever it may lie. From stitched faux leather-wrapped appointments to an open cabin space with new interior color schemes, the high-end design and overall layout allow you to feel as though you're traveling in a much larger and much more expensive vehicle.
Cozy seating materials, plus 8-way power front seats and heated and ventilated seats, allow you to sink into the drive, which makes the XT4 the ideal everyday commuter, especially when you're frequently navigating stop-and-go traffic and hectic interstates. Plenty of legroom throughout, with best-in-class 39.5 inches of rear-seat legroom, makes it easy to sign up for carpool duty or load up the family for a weekend road trip to the cabin.
Despite its small size, the XT4 is a pro at accommodating your gear as well. With up to 48.9 cu.ft. of cargo space, the XT4 can handle everything from work materials to luggage without compromising the space your passengers enjoy. Plus, plenty of storage compartments throughout its cabin make it simple to have a place for everything joining you on the ride. The refinement and sophistication you enjoy in this compact SUV are like nothing else you've experienced before, making the 2024 XT4 a top choice for many drivers looking for luxury during their travels.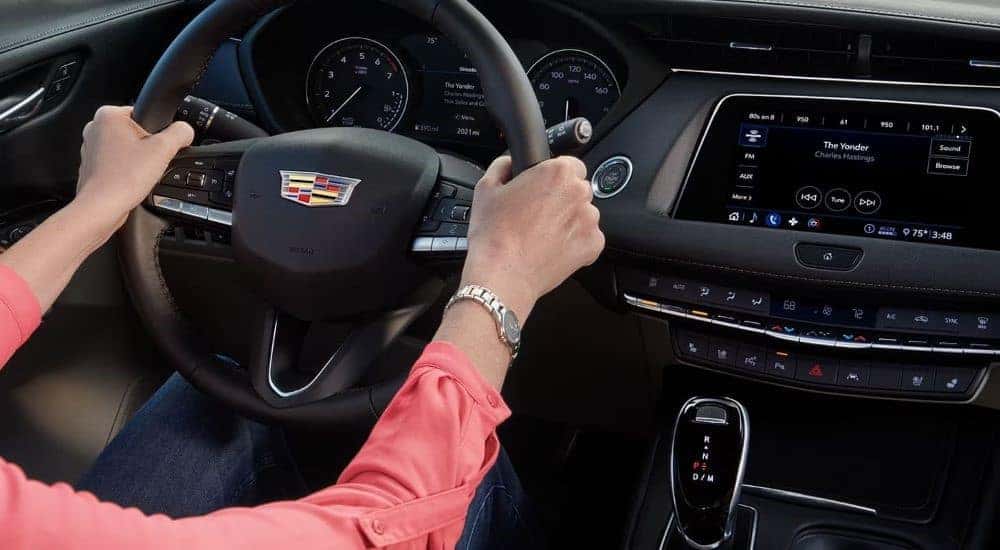 Top-Level Tech Upgrades
One of the most prominent changes you'll notice in the 2024 XT4 is the technology upgrades inside its pristinely laid-out cabin space. A massive 33-inch diagonal infotainment display stretches from the driver to the passenger, creating a cabin experience like never before. With the ability to display over one billion colors, this dazzling display is one of the most impressive in the business, and you'll find it standard across the 2024 XT4 trim levels. From wireless Apple CarPlay and Android Auto to Amazon Alexa built-in and more helpful features, the XT4 provides everything you need to enhance your drive in every possible way.
You'll also find that its available AKG Studio 13-speaker premium sound system is the icing on the cake as you take on any type of journey, near or far. From listening to your favorite music to staying entertained during your drive to work with an interesting podcast, the sound quality from this high-end system will enhance your ride like never before. Whether it's connectivity or entertainment that you're looking for in your ride, the 2024 XT4 makes it clear that it has it all.
Superb Safety and Assistance
The 2024 XT4 isn't just all good looks and ultra-cool features. It also showcases even more standard safety and assistance features this year to make your drive infinitely better. Blind Zone Alert helps you stay safe while navigating in your blind spots, while Rear Cross Traffic Alert helps you avoid striking obstacles while backing up. Front Pedestrian Braking also comes in handy while traveling on bustling city streets because, after all, you never know who will jet out in front of you while they're hurrying to get where they're going.
A Second Row Seat Belt Indicator helps all on board stay safe and secure by alerting those in the back who have yet to buckle up. Plus, with IntelliBeam lighting elements, seeing more clearly in environments lacking visibility is easy when driving the XT4. A Following Distance Indicator also comes to the rescue to help you stay a safe distance away from the vehicle in front of you, so if they should make an abrupt stop, you can brake without causing an accident. Adjusting to changes in traffic fluctuations, this feature is abundantly helpful, especially as you're traveling down busy interstates.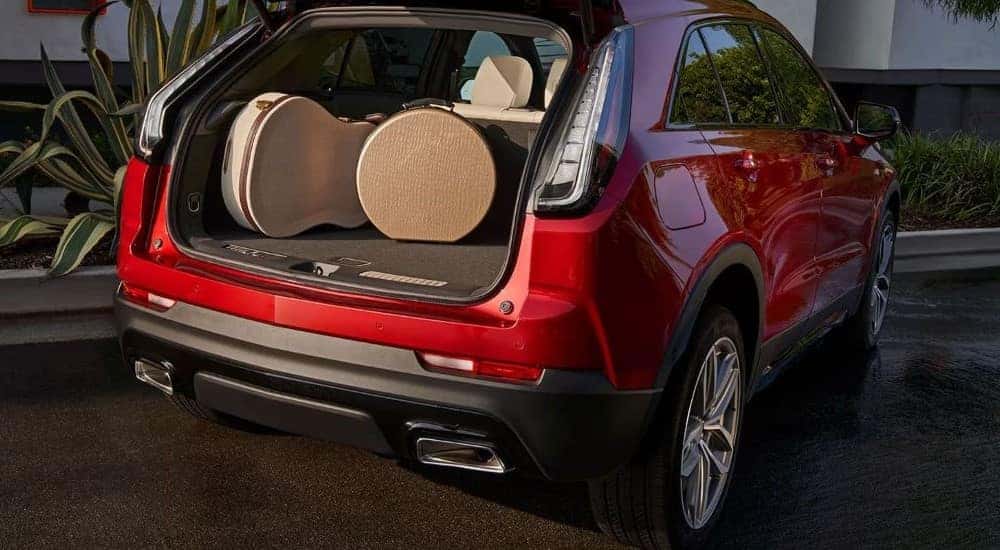 The 2024 Cadillac XT4: Enhanced Like Never Before
From front to back, inside and out, the 2024 XT4 has been upgraded to feature some of the most intriguing features in the industry. From its bold new styling outside to its luxurious features inside, exceptional tech features to its wide array of safety and assistance options, you get to have it all when driving the XT4. When you're searching for a vehicle that prioritizes luxury, innovation, and comfort, Cadillac designs some of the best models the industry has ever seen, and the compact XT4 is a perfect example of this. You get to have it all in a small, agile, and sophisticated machine capable of delivering you everywhere you need to go in absolute elegance.
If you've got your sights set on the magnificent 2024 XT4, stop by or contact us at Ryan Cadillac Minot and start bringing the model home that works perfectly for your travels. Whether you're off to the office every morning or frequently embarking on trips across the state, the XT4 is designed to offer more to drivers in every possible way. Our team can't wait to help you get behind the wheel of the 2024 XT4, so let's get started on elevating your travels and revolutionizing the way you take on the daily drive.