Some of the Best Used SUVs Come From Cadillac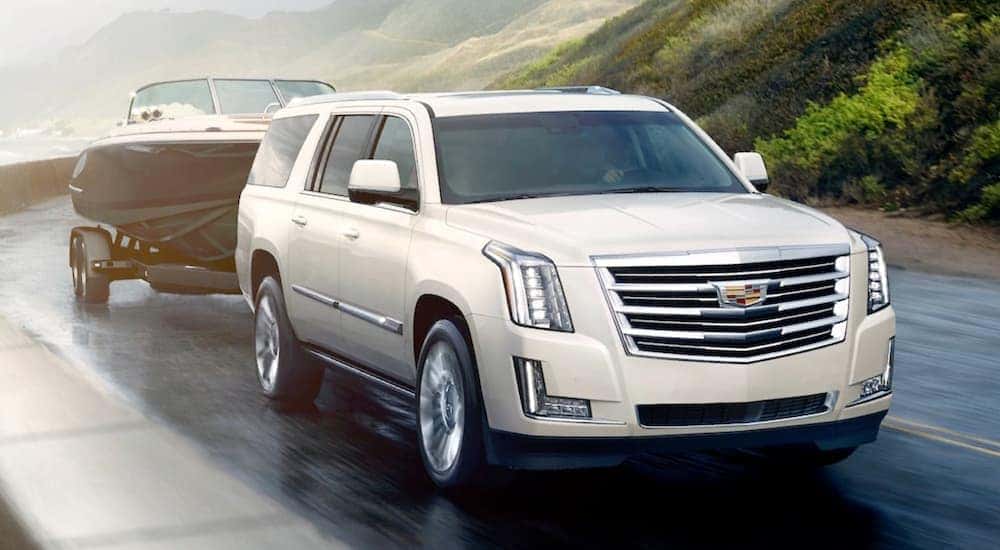 Let's face it; there are a lot of SUVs out there to choose from if you're searching for used SUVs for sale. Big, small, and everything in between, it's tough to know where to start. However, if you are looking for the best SUV to buy second-hand, you can't go wrong with a Cadillac. Even if you've narrowed down your choice to a great brand like Cadillac, your search can still leave you with questions. Buying a new vehicle is a big investment, so it's always worth it to do your homework.
Searching for a new SUV can be fun or overwhelming, depending on how you look at it. Keeping in mind the features you're looking for, your lifestyle, and your budget can really help cut down on the list. But even if you're thinking about a used Cadillac, you might still be unsure what kind you want. After all, Cadillac is known to make some of the best, long-lasting luxury SUVs on the market. We've taken a look and picked out a few of the standouts in the Cadillac family to help make your search a little easier. Not sure where to begin? Then check out our list below to get started.
The Cadillac Escalade
Head-turning and eye-catching, the bold Escalade is, without a doubt, Cadillac's most popular SUV. Not only are Escalades stylish and luxurious, but they are known to be long-lasting, reliable, and safe vehicle's that drivers can count on to get them where they need to go. So what is there to know about Cadillac's most popular SUV? As a full-size SUV, an Escalade can easily hold up to eight passengers without feeling cramped. Since the Escalade came out in 1999, Cadillac has taken the time to update and refine the model to make it one of the most impressive SUVs on the market. Now in its fifth generation, there are plenty of great used models for drivers of any budget.
Since its beginning, the Escalade has been a big, flashy, attention-seeking SUV. So if you're looking for understated and quiet, you might want to check out one of the more understated crossovers like the XT4. It's almost a joke to call the base model the standard because of its high-end cabin materials and a great variety of available features. With its rolling curves and impressive size, there's no mistaking an Escalade.
Don't let the Escalade's pretty face fool you, either. If you're looking for power, Escalades are equipped with a V8 engine that can deliver up to 420 hp with 460 lb-ft of torque. Whether you're running around town or getting away for a weekend, the Escalade is a solid, family-centered SUV that delivers plenty of space for all of your passengers.
After being in production for several decades, there are a lot of model years to choose from, but which years are the best? That really depends on you and your preferences. If you want to pick up the latest and greatest that Cadillac has to offer without the heavy new price tag, consider years like 2019 and 2020. These used Cadillac Escalades come at the tail end of the fourth generation, which means they tend to have fewer issues than earlier models. It also means they are fairly up-to-date when it comes to technology and can be found with fewer miles than some older models.
Check out years like 2013 and 2014 to take advantage of powertrain options, including the standard V8 engine or a hybrid V8 engine with a 60kW electric motor, for a more eco-friendly option. Drivers can also choose between rear-wheel drive and all-wheel drive, depending on their needs. These years offer drivers the opportunity to scoop up some great high-end features at a price that won't break their wallets.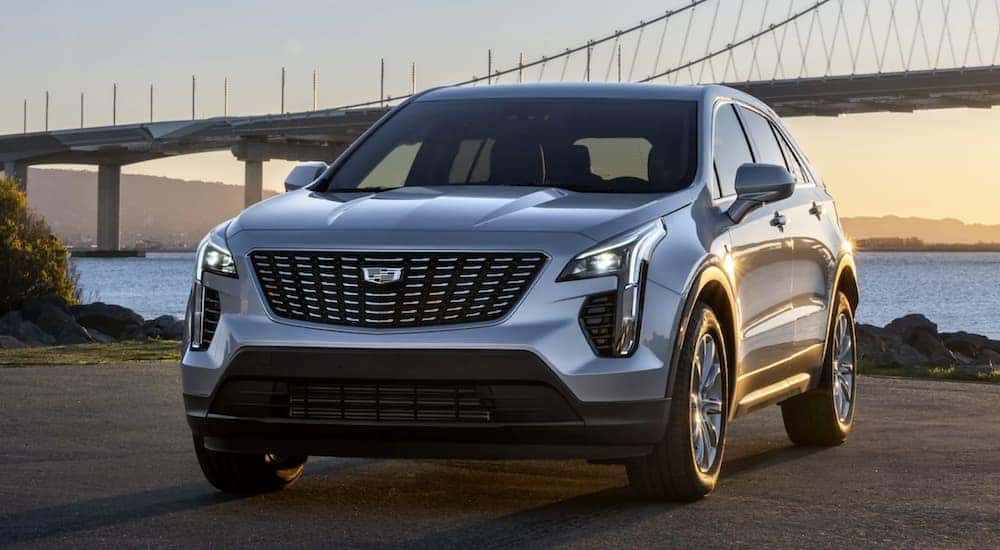 The Cadillac XT4
If you're looking for something a little smaller and less flashy than the Escalade, the XT4 might be right up your alley. This subcompact SUV is one of the younger models in the Cadillac family, first becoming available in 2019. This can be great news for drivers searching for a lightly used SUV that has lots of new tech and driver assist features. In 2021 the NHTSA gave the compact crossover a five-star overall safety rating. So not only are you getting comfort and first-class styling, but you're getting a safe, affordable SUV you know you can depend on.
With only a few years to choose from, 2021 is cited as being the best so far. However, since Cadillacs tend to hold their value, this one could be a bit on the pricey side. If you're searching for a real bargain consider going down a few years to 2019 and see what you can find. But any driver that's ever sat behind the wheel of a Cadillac knows that the XT4 is well worth the investment.
The Cadillac XT5
The XT5 is a bit bigger and has been around a bit longer than the compact XT4. You should note that the XT5 gets slightly worse fuel economy than the XT4, but that's due to its larger size and more powerful engine options; a small price to pay. If you want something with a bit more room and capability, a used Cadillac XT5 is the model you are going to want to check out.
This model is one of Cadillac's most reliable models. The midsize SUV seats up to five passengers, making it great for a small or growing family. Like other Cadillacs, the XT5 is all about luxury and a first-class driving experience. The roomy cabin offers both drivers and passengers a comfortable ride. Plus with elegant design and premium materials, every drive feels more like a treat than a chore.
The midsize crossover got a refresh in 2020 with updates to its infotainment system and a rear camera mirror addition. Plus, drivers can take advantage of the XT5's 2.0L I-4 turbocharged engine that generates 237 hp and 258 lb-ft of torque. Level up to the Premium Luxury or Sport trim to take advantage of the XT5's V6 engine, with 310 hp and 271 lb-ft. The XT5 was designed with the driver in mind and continues to impress, quickly becoming one of Cadillac's favorite and best-selling SUVs.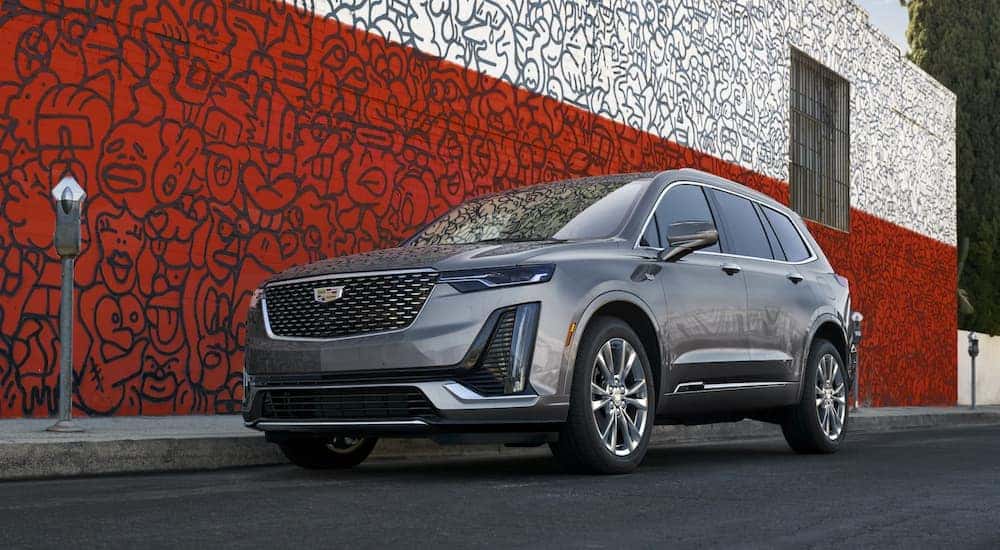 The Cadillac XT6
Rounding out Cadillac's SUV portfolio is the XT6. This is the brand's newest addition, only arriving in 2020. So drivers will have limited options when it comes to finding a used vehicle at a lower price. However, when you check out what the XT6 has to offer, you might feel it's worth it. The NHTSA awarded the 2021 XT6 a five-star overall safety rating, making this a safe, long-lasting vehicle that drivers can trust to protect themselves and their families on the road.
The XT6's cabin is spacious, and with three-row seating, you have room for everyone. Not to mention, up to 78.7 cu.ft. of cargo space gives you room for everything. The XT6 is larger than both the XT4 and XT5, placing it just below the full-size Escalade in the lineup. Depending on the level of features and luxury you're looking for, there are three trim levels out there to choose from: Luxury, Premium Luxury, and Sport.
Go Small, Go Large, Go Cadillac
Cadillac offers a diverse range of SUVs, from full-size to compact, making it easy to narrow down your choice by size and budget. Whether you're searching for an older Escalade to take advantage of its lower pricing or you simply want a lightly used compact crossover, Cadillac has you covered. Drivers get peace of mind every time they get behind the wheel. One ride in a Cadillac, and drivers will note the company does not sacrifice form over function. Even at a base level, the sophisticated and high-end materials are visible, making every ride in a Cadillac comfortable and unforgettable.