From Luxury Land-Yacht to Ultimate Sophistication: The Cadillac Escalade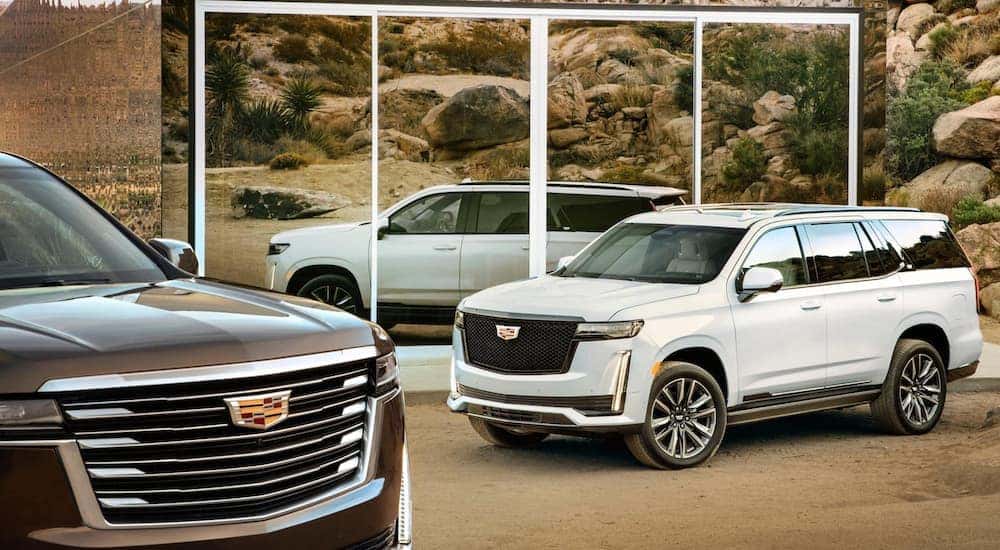 Did you know that every used Cadillac Escalade for sale traces its roots to the GMC Yukon Denali? While the Escalade is synonymous with luxury and exclusivity, the SUV got off to a unique start in the late 1990s. The luxury SUV was General Motors' rushed response to the Lincoln Navigator and Lexus LX 450. In many ways, it wasn't an original but a carbon copy of the Yukon sans a few updates to make it less like a GMC and more like a Cadillac.
That first-generation Escalade was short-lived, but it did the job. It put Cadillac in the luxury SUV race, laying the foundation for the Escalade's rise to the top of the proverbial food chain. Today, it doesn't get more luxurious than the Escalade among American automakers, especially with the introduction of new models like the 2023 Escalade V that blends performance, opulence, and sophistication as naturally as our hearts beat. These characteristics are at the core of the Cadillac lineup, particularly the Escalade, as you'll see throughout its rich heritage over the last two decades.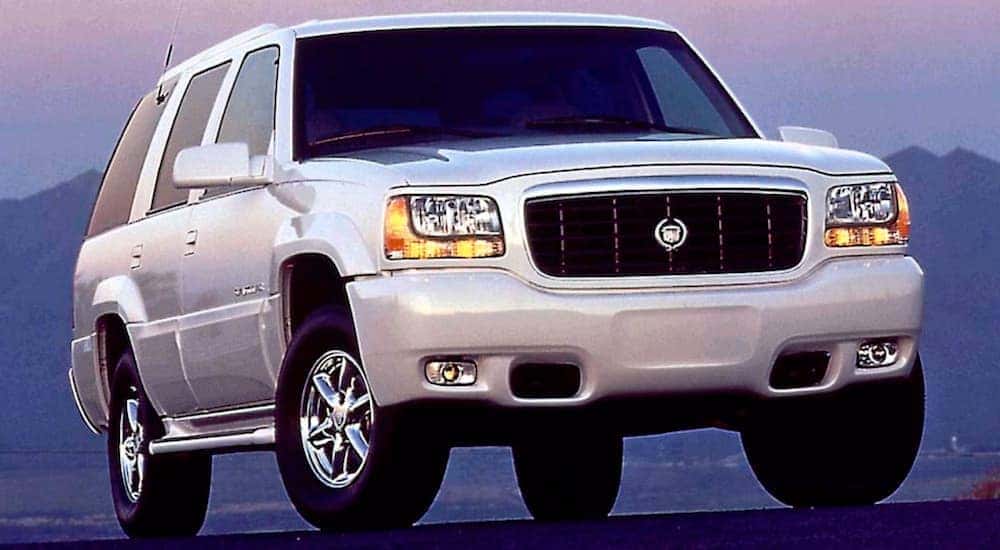 First Generation: 1999 to 2001
The introduction of the Lincoln Navigator in 1998 put the industry on notice, forcing automakers like Cadillac to respond. Although Cadillac had cornered the luxury sedan market, it showed no signs of adding an SUV to its lineup until the Navigator made its debut. Cadillac had to respond, with General Motors giving its design team less than a year to develop and build the Navigator's rival. By late 1998, the Escalade was born.
Time constraints forced General Motors to use the Yukon Denali as the basis for the first-generation Escalade, swapping the front grille, interior details, and wheel designs for Cadillac-esque alternatives. As a result, the first-generation Escalade is the only model to feature a five-seat layout. It also shares the Yukon's then-standard 5.7L V8 Vortec engine, producing 225 horsepower and 330 lb-ft of torque. Although its power output is modest by today's standards, the Escalade's premium interior and conveniences more than make up for it with its leather seating, Bose premium sound system, heated exterior mirrors, rear climate system, and power seats.
Highlights:
A carbon copy of the GMC Yukon Denali with Cadillac detailing and badging.
The only generation to offer a seating capacity for five.
Modest power output with 255-horsepower V8 engine and four-speed automatic transmission.
Second Generation: 2002 to 2006
The first-generation Escalade was a placeholder until GM finished the GMT820 platform destined to bear the Escalade name. With the platform complete, Cadillac debuted the second-generation Escalade only three years after the first generation in 2002. The excitement was palpable, with the new Escalade immediately garnering praise for its bold, angular design that helped distinguish it from the Yukon and other brand siblings like the Chevy Suburban. Cadillac took those distinguishing features further by offering exclusive leather colors, Zebrano wood paneling, a Bulgari analog clock, and trim-specific luxuries like heated and cooled cup holders and a moonroof.
Along with its distinct design, the second-generation Escalade also introduced an updated powertrain befitting an SUV of its size. Cadillac swapped the Yukon's 5.7L V8 for a 6.0L V8 and kept the industrial-grade four-speed automatic transmission to manage the engine's significant boost in power to 345 horses and 380 lb-ft of torque. This potency gives the second-generation Escalade a maximum towing capacity of 8,000 pounds, with Cadillac offering four-wheel drive and an adaptive suspension to optimize the luxury SUV's handling and on-road prowess.
Highlights:
It increases seating capacity from five to eight.
It introduces new standard features like XM Satellite Radio, second-row bucket seats, a tire pressure monitoring system, and power-adjustable pedals.
Mid-generation models offer more entertainment features, like an AM/FM radio, single-disc CD player, and touchscreen GPS navigation system.
Third Generation: 2007 to 2014
If you are looking at used SUVs for sale, take a look at the second-generation Escalade, which set the benchmark that more is always better, particularly in a luxury SUV. The theme continued for the Escalade's third generation, an era when the SUV solidified its reputation as a mega-sized land yacht designed for the rich and famous. Cadillac cashed in on the Escalade's exclusivity and gave drivers with deep pockets everything they ever wanted and never knew they needed in an SUV. But how much more lavish could the Escalade get? Along with leather seating and a premium sound system, Cadillac adds soft-touch plastic finishes, heated and ventilated seating, and heated and cooled cupholders to keep every drink at the perfect temperature. What's more luxurious than that?
The theme of "more is better" continues under the hood of the third-generation Escalade, where Cadillac swaps the 6.0L V8 for a bigger 6.2L V8 and six-speed automatic transmission. The new powerplant produces 403 horsepower and 417 lb-ft of torque with an average fuel economy of 14 MPG in the city and 18 MPG on the highway. With rising gas prices, Cadillac also introduced the Escalade Hybrid to appeal to environmentally conscious drivers. The hybrid pairs dual 60-kW electric motors and a nickel-metal hydride battery with a 6.0L V8 engine to produce 379 horsepower and an average fuel economy of 20 MPG in the city and 23 MPG on the highway, a notable improvement for the luxurious land yacht.
Highlights:
Extends standard features to include tri-zone climate control, cruise control, heated front and second-row seats, seat memory, and remote engine start.
Top-tier trims like the Platinum add a rear DVD entertainment system, navigation system, rearview camera, ventilated front seats, heated and cooled cup holders, and upgraded leather.
Satellite Navigation System offers instant traffic updates and rerouting options on 2009 models for an improved driver experience.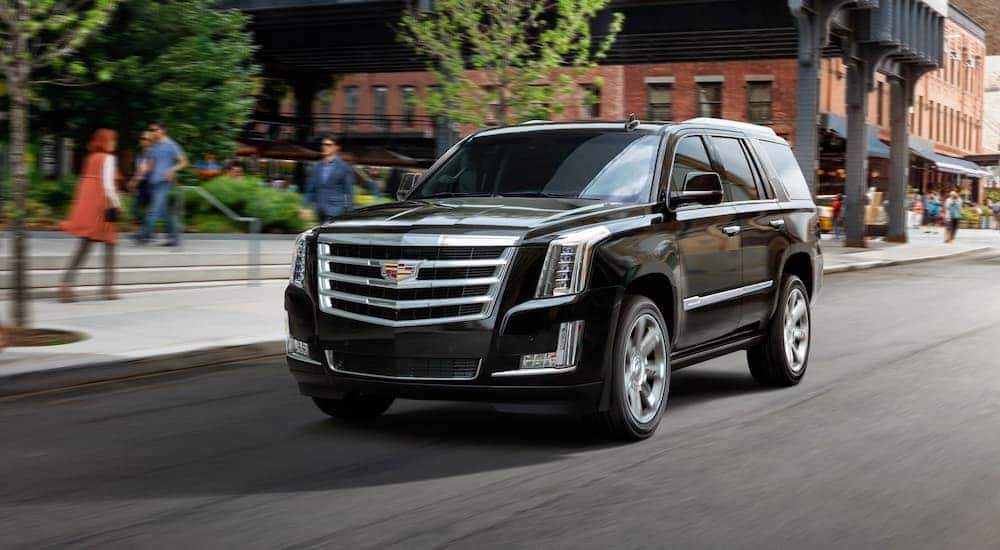 Fourth Generation: 2015 to 2020
Although the Escalade worked diligently to differentiate itself from the Suburban and Yukon, it didn't fully accomplish this feat until 2015 with its fourth generation. This evolution of the Escalade marks a significant shift for the SUV, transforming its "more is better" mentality into one of sophistication and refinement. Of course, more is still better, but rather than heated and cooled everything, the fourth-generation Escalade focuses on offering more technology and more sophistication.
With its new focus, the fourth-generation Escalade still offers plenty of luxury but adds new Cadillac-exclusive materials, exquisite details, and cutting-edge technology to enhance the driver experience. Cadillac no longer relies on GM's technology, introducing its CUE infotainment system alongside a host of features like the rear camera display, onboard diagnostics, and cruise control. The Escalade's powertrain also sees another update, with the standard 6.2L V8 mated to an eight or ten-speed transmission to produce 420 horsepower and 460 lb-ft of torque to make the Escalade the most towing capable luxury SUV in its class.
Highlights:
Introduces Magnetic Ride Control, the fastest-reacting suspension system in the world.
The Cadillac User Experience (CUE) debuts via an eight-inch center display and a 12.3-inch digital driver information system that offers state-of-the-art voice recognition, touch controls, Siri Eyes Free, and Text Messaging Alerts.
Adds features like OnStar with a 4G LTE WiFi hotspot for enhanced connectivity.
Fifth Generation: 2021 to Present
The fourth-generation Escalade shifted its reputation from a land yacht of substantial excess to a premium SUV of sophistication and opulence. The fifth generation further expands on this shift, rebranding the Escalade and likening it to the rest of the Cadillac lineup with its clean lines and soft detailing. Inside, the Escalade follows a similar theme with an all-new interior that blends state-of-the-art technology with handcrafted details and premium finishes.
The fifth-generation Escalade also introduces many industry and segment firsts with its curved OLED display technology, AKG audio technology, and Super Cruise driver-assist technology. The Escalade's OLED display stretches over 38 inches. It includes a 7.2-inch driver information center to the driver's left, a 14.2-inch cluster display behind the steering wheel, and a 16.9-inch infotainment system that offers crisper views than a 4K television. In addition, the display is enhanced by the Escalade's all-new Augmented Reality navigation system that provides live street views with directional overlays for greater convenience.
Beyond this high-level technology, the Escalade continues to deliver the power expected of the luxury SUV. It comes standard with an updated 6.2L V8 engine that balances its 420 horsepower output with efficiency thanks to Dynamic Fuel Management technology and variable valve timing. Cadillac continues to raise the bar, pushing the Escalade's capability to new heights with the SUV's first-ever available 3.0L turbocharged diesel engine that churns out 460 lb-ft of torque for exceptional towing.
Highlights:
Introduces Night Vision, which uses infrared technology to detect pedestrians and large animals in low-visibility conditions.
Features the industry's first AKG audio technology, which equips the SUV with a premium 36-speaker sound system with conversation enhancement, audio rendering for navigation, studio 3D surround, and front passenger volume control.
It's the first full-size SUV with Super Cruise, a hands-free driving technology that works on over 200,000 miles of roads throughout North America.
The Escalade Today
The Escalade has a rich history in the Cadillac lineup, evolving from a carbon copy of the GMC Yukon Denali into a luxury SUV oozing sophistication and replete with cutting-edge technology. This remarkable transformation showcases Cadillac's commitment to constantly evolving its lineup to meet drivers' needs and exceed their expectations. We see this firsthand when shopping for a used Cadillac Escalade, whether it means getting behind the wheel of a fourth-generation model featuring the first iteration of Cadillac's infotainment system or a fifth-generation model that introduced the industry's first curved OLED displays. Regardless of model, the Escalade guarantees a premium driving experience grounded in luxury, sophistication, and innovation, a trifecta that's defined the SUV for over 20 years.