A Lesson in Modern Luxury: Tracing the History of the Cadillac XT5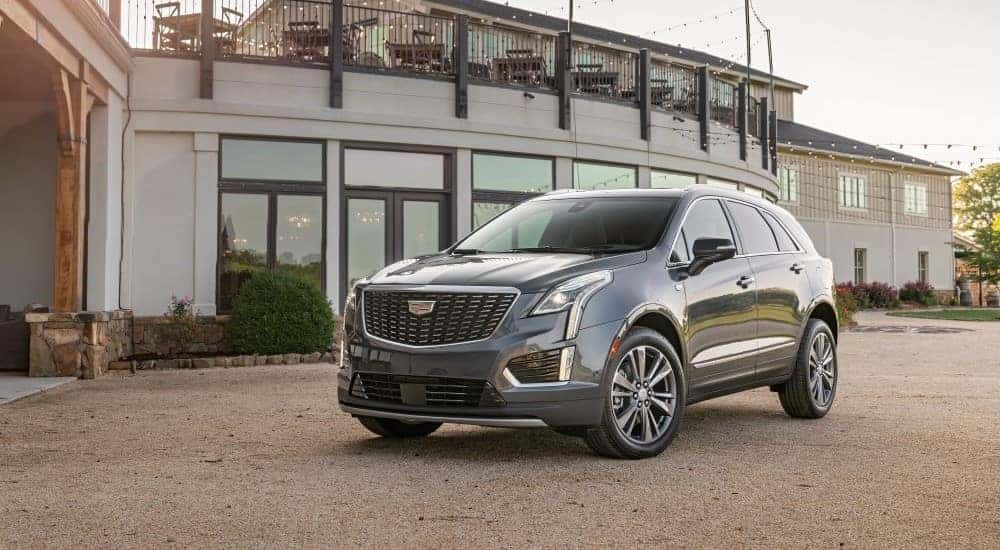 The XT5 made its debut in 2017, providing drivers with an intriguing new option in the ultra-competitive midsize luxury SUV segment. The XT5 replaced Cadillac's outgoing SRX crossover and immediately impacted its debut, boosting the automaker's sales in the midsize luxury crossover category by a head-turning 44 percent. The XT5 quickly became the brand's bestseller, driving record growth for Cadillac and winning over drivers with its unique blend of style, performance, and innovative luxury features.
More than half a decade since its debut, buyers should have no problem finding a quality used Cadillac XT5 for sale, especially with our extensive selection of new and pre-owned models here at Ryan Cadillac of Minot. So what sets this luxury SUV apart from the crowd, and why is it worth a test drive? Join us as we trace the evolution of the XT5 and see how midsize offerings have quickly become a brand favorite thanks to a refined blend of style, performance, and, of course, luxury.
A High-Flying Debut
When the XT5 was unveiled in 2017, critics were particularly won over by the SUV's looks, which proved to be just a little more mature than some of its flashier competitors. This was no coincidence as, early in the process, Cadillac made exterior styling a major point of emphasis for the midsize crossover. This campaign began as early as 2015 when Cadillac ditched the old-fashioned auto show circuit for the glitz and glamor of The Big Apple, rolling into New York Fashion Week (NYFW) with a bold new marketing strategy that took its inspiration from the industry's taste-making fashionistas.
Minimalist design, especially the absence of recognizable logos, was all the rage in the world of haute couture and an aesthetic that Cadillac hoped to capitalize on in its forthcoming models. While it's easy enough to show up at NYFW and sponsor a few events, Cadillac dove in headfirst, working with emerging designers to create an exclusive livery for the Cadillac ELR coupe and collaborating with NYC fashion brand Public School to showcase a full line of men's and women's wear for Autumn/Winter 2015.
The NYFW appearance was more than a marketing scheme; it was a statement of intent from Cadillac. With over 100 years in the business, Cadillac has established itself as one of the most recognizable American auto brands, achieving a level of notoriety that meshed well with prevailing design sensibilities. Few brands were better positioned to take advantage of the new minimalist, brand-light trend than Cadillac, which has long relied on austere, mature performance and luxury features, not flashy design, to sell vehicles.
Of course, sometimes, a little spectacle goes a long way. In order to ensure that the fashion world took notice, Cadillac decided to make the XT5's NYFW unveiling an unforgettable event. The automaker took to the skies, loading the XT5 onto a platform suspended from a military-grade helicopter and flying the luxury SUV over the skies of Manhattan's Lower West Side. It was a memorable coming-out party for the XT5 and one that cemented the brand's connection to the nation's epicenter of design and fashion. "The spirit of New York is very simple: Never stand still. Always move on. And this is exactly what I want in the Cadillac brand," said Uwe Ellinghaus, Chief Marketing Officer at Cadillac.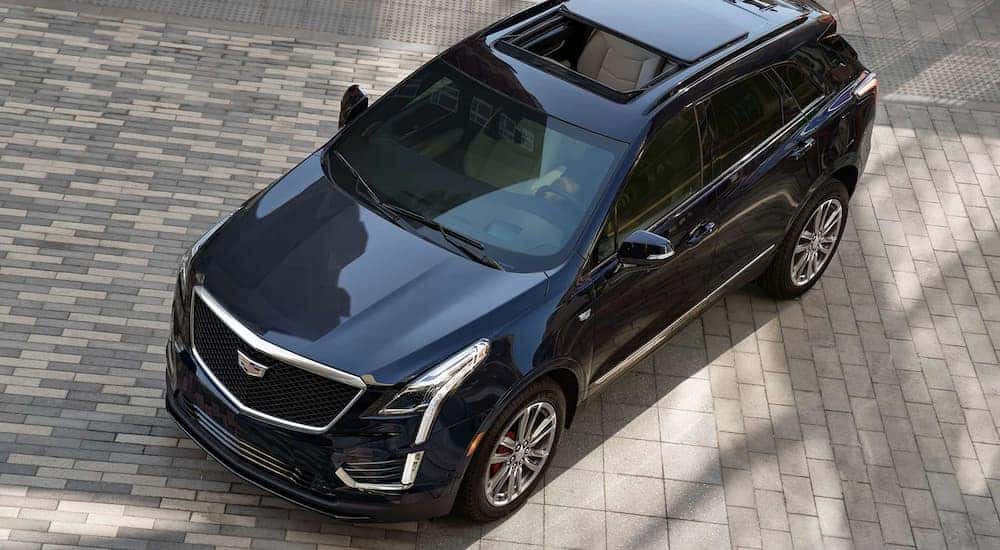 Luxury Through Technology
In the hotly contested luxury segment, it isn't enough to simply boast flawless styling and rock-solid performance. As technology comes to pervade throughout every aspect of daily life, it's become the newest arms race in the auto world, with brands rushing to integrate the latest and greatest into their new offerings. With used SUVs for sale, specifically the XT5, Cadillac doubled down on this ethos, endowing the crossover with cutting-edge technology, making it an immediate standout in the category.
The first, and most novel, feature would have to be the SUV's streaming Rear Camera Mirror. While this technology is now starting to pop up on vehicles outside the luxury segment, it was groundbreaking at the time, improving a driver's field of vision by an estimated 300 percent. The feature transforms the standard glass rearview mirror of old into a high-resolution 1280 x 240 pixel LCD video display, providing drivers with a crystal-clear view of the road thanks to a rear-mounted camera.
The Rear Camera Mirror not only improves a driver's field of vision but can also enhance the view thanks to the camera's high dynamic range, which allows it to reduce glare and improve resolution in low-light scenarios. For those who prefer a more traditional view, the high-resolution display can be switched off at the touch of a button, allowing drivers to revert to a good old-fashioned rearview mirror.
Cadillac filed ten patents for Rear Mirror View tech, which has since been adopted by brands across the industry, and it's not done tinkering just yet. When the XT5 was updated in 2020, Cadillac added a Rear Camera Mirror Washer which can be remotely activated to clear dust, mud, and grime off the rear-mounted camera, a marked improvement over the previous approach, which saw Cadillac apply a hydrophobic coating directly to the camera.
Putting Performance at the Forefront
No matter how much advanced tech you might pack into the cabin, drivers will still ultimately judge a vehicle by its on-road performance. This is especially true in the luxury segment, where, given the high starting cost, there's no excuse for sup-bar driving dynamics.
The XT5 originally debuted with a single-engine offering in the form of a 3.6-liter V6 with 310 hp and 271 lb-ft of torque. Paired with an eight-speed automatic transmission, this setup provided a ride that was comparable to all but the most performance-oriented luxury SUVs in the class, but Cadillac wasn't done tinkering just yet. When the automaker refreshed the SUV for 2020, the engine was a major point of emphasis, with Cadillac replacing the V6 with a turbocharged four-cylinder setup as the base engine. With 237 hp to its name, the turbocharged engine provided a great new option for drivers seeking an alternative to the V6 setup. The twin-scroll turbocharged engine earned favorable reviews from drivers and critics alike.
While the XT5's engine is obviously an important part of the equation, it was a new type of shifting technology that really caught the public's attention. The XT5 was the first production vehicle to feature GM's Electronic Precision Shift (EPS) technology, an innovative new system that essentially digitizes the SUV's shifting interface. The EPS tech holds myriad benefits over traditional analog shifting systems, reducing noise and vibration while ensuring smooth, precise shifting, freeing up cabin space, and lowering the SUV's overall weight. For example, the space freed up by the EPS system allows for a "floating" center console with a convenient storage cubby beneath the shifter itself. While the extra space is nice, the smoothly shifting nature of the EPS has won over drivers since the tech's debut in 2020.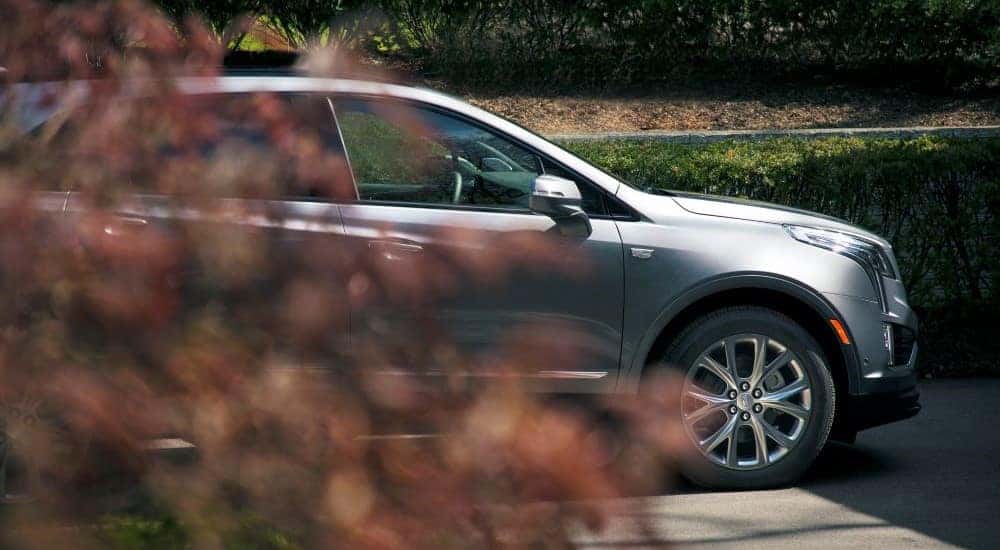 Let Us Help You Get Behind the Wheel of the Cadillac XT5
Since 2017, the Cadillac XT5 has provided drivers with a compelling new choice in the midsize luxury SUV segment. Stylish, refined, and packed with advanced tech, the XT5 is a case study of everything there is to love about a luxury SUV. As a family-owned and operated dealership with a legacy stretching over 75 years, Ryan Cadillac Minot has become one of the region's most trusted luxury dealerships. From the latest-and-greatest Cadillac cars and SUVs to quality pre-owned models from Lexus, Land Rover, GMC, and more, there's always something new to discover at Ryan Cadillac Minot.
The pre-owned market can be intimidating for buyers who aren't always sure what they're getting, but with Ryan Cadillac's Certified Pre-Owned vehicles, you'll get a high-quality vehicle held to a higher set of standards for an affordable price. We put every model through an exhaustive inspection process, with only the best vehicles making the cut. In addition to our wide selection of new and pre-owned vehicles, we also offer a full in-house service center and parts department along with a friendly financing team who work with you to find a payment plan that fits your budget. From the first test drive to signing on the dotted line, we'll be here for you every step of the way at Ryan Cadillac of Minot. Contact us or come in today and let us help you find a Cadillac model, like the exciting XT5, that is sure to enhance your daily driving experience.